The pen-and-paper side of our hobby could really learn something from video games (see previous post).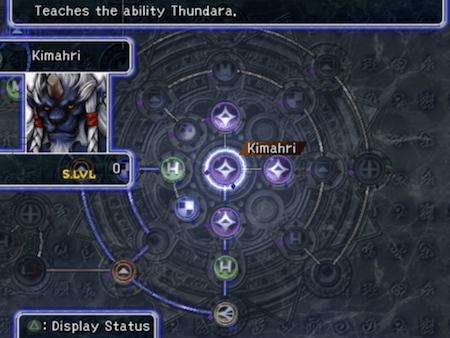 I don't mean in an off-putting, game-y, 4th edition way, either. The competitive pressure in the video game space is huge, leading to all sorts of interesting experiments. Because the pressure is more intense—and perhaps also because there are more consumer dollars supporting game makers—this experimentation happens much more quickly than the pen-and-paper side of the hobby.
One of my favorite minor innovations is Final Fantasy X's Sphere Grid (pictured, right). When I picked FFX up around my 14th birthday, I was fascinated by the it. To briefly summarize, the Grid was the best sort of metagame: You would gain Spheres, then spend those Spheres to advance your characters along a winding system of tracks. At various points the tracks would split, and you'd be forced to choose how your character would advance.
Leveling up was no longer a mechanical process, or just a choice of whether to learn a new move. Instead, I was moving around a map, I could take my characters wherever I wanted.
Keep reading